Please ask for Grandmother Fish: a child's first book of Evolution at your favorite bookstore.
"With simple text and vibrant, cheerful illustrations, this picture book offers a lively, accessible introduction to the theory of evolution to younger children."
—Booklist, American Library Association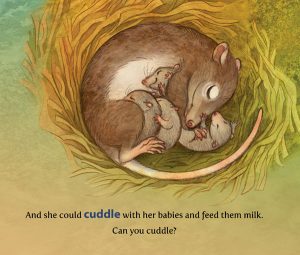 Grandmother Fish is a child's first book of evolution. The book engages a young child's imagination with sounds and motions that imitate animals, in particular our direct ancestors. It lets children see for themselves that we are related in form and function to the nonhuman animals that came before us. It's the story of where we came from, told so simply that a preschooler can follow it. Wiggle like a fish! Hoot like an ape! The Macmillan edition is now available.
Michael Kinsell of Michael's Storytime reads the entire story with all the art.

Our Kickstarter video is a great overview of the book and the team.
This video shows you a read-through of the book with three parents and their kids, who are hearing the story for the first time. For just the highlights, see our Highlights Video.
Parent/Child Read-Through Video
Karen Lewis, the artist, has a lot to say about science illustrations for kids, the Grandmother Fish project, and more.
Karen Lewis, Children's Science Illustrator
Reviews
Grandmother Fish has received some great reviews.
"A dynamite job…gorgeously illustrated." NPR, 13.7: cosmos & culture. In her review, Barbara J. King refers to an earlier review by Stephanie Keep of the National Center for Science Education, who says Grandmother Fish is "heads and shoulders above any evolution book for children that I've ever seen".
"Groundbreaking" says School Library Journal. "This selection can be revisited again and again as students refine their understanding of evolution. Highly recommended for homes, schools, and libraries." September 2016
"Though this is a complicated topic, the simplified presentation, cumulative format, and scrutiny-inviting visuals nicely illustrate evolutionary connections and provide a great starting point for further discussions." Booklist, American Library Association, December 2, 2016
"While the book would only take a few minutes to read to a child, it's wonderful how well the basic outline of evolution can be presented in those few minutes." TheHumanist.com, American Humanist Association
"Let's pause for a second to revel in the fact that Tweet figured out how to explain the inheritance of shared derived traits to toddlers. It's remarkable!" The American Biology Teacher, Nov/Dec 2017
Kickstarter Supporters
We received a good deal of support early on, back when the book was still in sketch form and the text wasn't final.
Get 'em young, by PZ Myers. June 9, 2014. Our first coverage online, two weeks before launch.
One-line tweet, by Daniel Dennett. June 23, 2014. This tweet was a big help on launch day.
Granny, What a Big Extended Family You Have!, by Eric Meikle, of the National Center for Science Education. June 24, 2014. Eric helped me a lot with the science in Grandmother Fish.
Evolution Book for Young Children: Grandmother Fish, by Greg Laden. He also helped me with some of the science details.
Plug on GeekMom, by Samantha Cook. She has good taste in evolution books for kids, and she likes Grandmother Fish.
Google+ post, by Fraser Cain, July 1, 2014.
Endorsements
Here are some endorsements that came in directly.
"Congratulations on Grandmother Fish, which is a lovely contribution to scientific literacy."
—Steven Pinker, one of the world's foremost writers on language, cognition, and human nature, bestselling author of How the Mind Works and Better Angels of Our Nature.
"Much needed!"
—David Sloan Wilson, a leading figure in evolution, editor-in-chief of Evolution: This View of Life, manager of various evolution programs, such as The Evolution Institute.
"I'm extremely impressed by the simplicity of this clever, beautiful, charming project. I'll be first in line to get Grandmother Fish for my own little daughter!"
—Daniel Loxton, editor of Junior Skeptic magazine, author of the national award-winning children's book Evolution: How We and All Living Things Came to Be
"Grandmother Fish evokes a sense of profound (and playful) connection to our deep time ancestors that ignites the imagination of all ages!"
—Jennifer Morgan, author, president of Deep Time Journey Network
"When my 5 year old daughter asked, "Who was the first person, and how was he or she borned?" I struggled to explain. Then I got Grandmother Fish, read it to her, and she loved it. This book fills a great need for parents, and answers a question many kids wonder about."
—Jonathan Haidt, New York University, author of The Righteous Mind
Creationist Responses
Grandmother Fish Can Wiggle and Chomp? by the grandfather of creationists, Ken Ham. He says I'm aggressive.
Is your grandmother a fish? by Georgia Purdom. July 10, 2014. A review on Ham's website Answers in Genesis.
Darwinian Indoctrination for Kids, a video slamming Grandmother Fish and evolution advocate PZ Myers.
Grandmother Fish got incorporated into a creationist meme.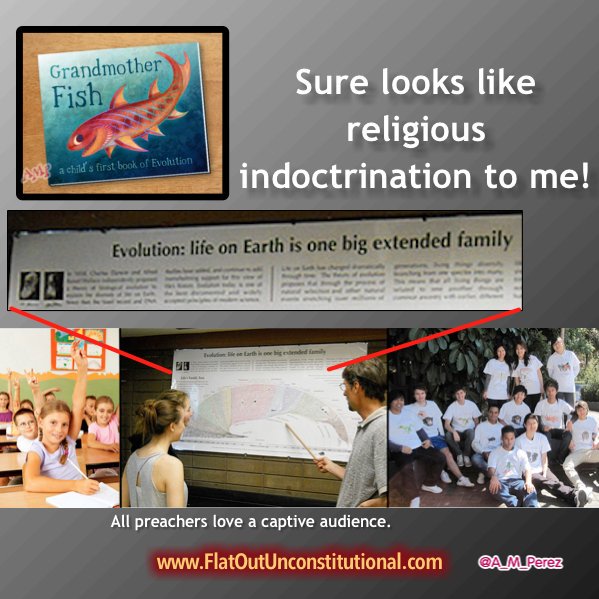 Additional Credits
Here are people who helped make Karen and me make Grandmother Fish as good as it is. Our thanks to all of them.
Science Help: Eric Meikle, Adam Benton, Paul Braterman, Rob Furey, Brian Joughin, Margaret Mills, Yan Wong
Story Advice: Sora Battey, Jermoy French, Mischa D. Krilov, Rob Lightner, Jeff McCord, Matthew Sernett, Jenny Scott Tynes, John Tynes
Editing: Beverly Marshall Saling
Lay-out: Karen Lewis, with suggestions from John Tyne and ASH LAW
Technical and graphic support: Jeff McCord